John's Sad Love


By JEAN TEETERS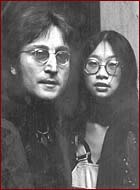 DO YOU WANT TO KNOW A SECRET?

May Pang, pictured with John Lennon in 1974, just learned that the rock legend was "dying to be with her" for most of the '70s.

Photo by Ron Galella


Sunday New York Post, November 10, 2002

Just two weeks after Yoko Ono won her September court battle to reclaim John Lennon's photographs and notes stolen by his former aide, the other love of Lennon's life made a bombshell discovery.
Native New Yorker May Pang, who had a secret affair with the ex-Beatle almost 30 years ago, finally found out that Lennon's passion burned for her long after their romance had ended.
Reading an interview with Lennon's unofficial biographer Robert Rosen, who was a witness in Ono's legal action, Pang was shocked to find out that Rosen branded Lennon's love for her as the "saddest" aspect of his writings.
According to Rosen, a former pal of Lennon's aide-turned-thief, Frederic Seaman, the ex-Beatle's continued desire for Pang was evident in many of the diary entries he made from 1975 until his slaying outside the Dakota apartments on Dec. 8, 1980.
"It was so clear he was dying to be with her and he couldn't do it. He wrote about that a lot," Rosen said.
Until then, Pang knew nothing of the writings.
"I wanted to cry. I always knew it in my heart, but John's actions proved differently," said Pang of her discovery. "He went back to Yoko and nobody knew what the underlying situation was. But I knew."
Pang last spoke to Lennon on the telephone during the Memorial Day weekend of 1980, and talked about their time together, she said.
Pang said: "At one point, he said, 'I've been thinking about you a lot. I've been trying to think of how to get you out to our house in the Hamptons. I don't know how to do it.' "
The Pang-Lennon affair was one of the most unusual romances in the annals of rock history - one that began in 1973, when Ono suggested the attractive 23-year-old should become Lennon's mistress.
Pang had been working for the Lennons since 1970, during one of their early trips to America.
Their affair - known as Lennon's "Lost Weekend" - started during the recording of his "Mind Games" album, which is set to be re-released this month.
"Yoko wasn't around...she had no involvement at all," Pang recalled. "And when she worked on her album [at the same studio], John would stay home. They were already having their split with the music."
Lennon and Pang eventually lived together for 18 months, traveling between Los Angeles and New York.
Ten years his junior and reluctant to jeopardize her job and her future in the music business, Pang said she refused her boss's advances for as long as she could.
In her book, "Loving John," Pang described the moment of surrender that took place in her studio apartment on the Upper East Side.
"John slowly drew me to him and cradled me in his arms. He began to kiss me gently. I felt inexperienced, awkward and an unlikely choice for a man like John Lennon," she wrote.
"After we made love, John said, 'We fit like a glove. We're perfect together.' "
The relationship ended almost as suddenly as it began. A call from Ono telling Lennon to come to the Dakota for a mysterious "smoking cure" was all it took to get him back home for good.
"This '[Lost] Weekend' business was the only way he could put it when he went back to Yoko. It was his concept," Pang said.
It's uncertain whether Pang will ever see Lennon's words declaring his love for her. Ono has had possession of the controversial diaries since an earlier court action against Seaman in the mid-'80s.
But no one can take away her memories, said Pang, who still lives in New York. She is working on a new book, which will feature her own unpublished photographs of John Lennon.
"We had a great time. We did a lot of stuff. We did 'Rock 'n' Roll.' We did 'Walls and Bridges.' He reacquainted himself with his son [Julian] and the other three guys in his former band. He looked healthy, he looked happy. And he was functioning like a human being," she said.
Copyright © 2002 The New York Post
Read the Absolute Elsewhere interview with Robert Rosen that led to this story