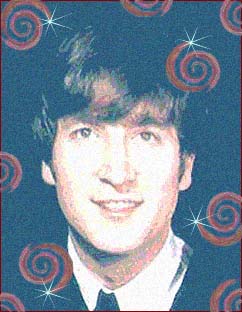 Memories of Beatle John
Looking Back at a Man and an Era

It seems that John Lennon has always
been a part of my life. Of course, that's
not really the case. I lived my first 12
years with no knowledge of his existence,
but once I set eyes on him, my life would
never be the same.
In February 1964, I was a little girl on the verge of growing up, but I didn't realize that at the time. I innocently played with my Barbie dolls on the bedroom floor and had vague thoughts about perhaps someday trying out for cheerleader. Little did I know that before the year was out, my life would be completely and utterly transformed by the four lads from Liverpool, and that I would become a major trendsetter in fad, fashion, and thinking for the entire population of my 7th grade class.
AMERICA MEETS THE BEATLES
I hadn't heard a word about The Beatles before that fateful day of February 7th, but somehow when I watched the evening news and witnessed the national coverage of their arrival in New York City, I was as excited as the throng of screaming fans at JFK. Why? I couldn't begin to tell you. It was something in the air, something that instantaneously caught fire all over America. And I, along with millions of other pubescent girls across the land, was suddenly overcome with the bug called "Beatlemania." There didn't have to be a reason other than that we had simply been made aware of them: the four "Mop Tops" who looked so very strange and so very adorable...along with everything else they represented to our starving mid-20th century teenage intellects and psyches.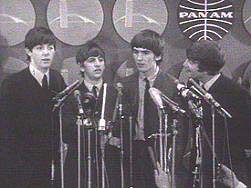 The timing couldn't have been better for The Beatles to hit the American music scene. Still numb from the assassination of President Kennedy, that gray-colored winter of 1964 was hanging heavy on the hearts and minds of Americans of all ages. And for us Baby Boomers...well, I can't help feeling that somehow we knew that the hopes of a coming generation had been shattered and our future was unbearably uncertain. We had inherited the watered-down version of the originally fiery rock and roll of the fifties, and it was giving us little to be truly excited about. Songs like Sherry (by The Four Seasons), It's My Party (by Leslie Gore), and Blue Velvet (by Bobby Vinton) were dominating the charts, simply serving as "muzak" to our ears. That was what the music industry was dishing out to teenagers at the time. We were massive in numbers, but the older generations didn't come close to seeing us for what we were to become: the most powerful, exuberant, creative, and explosive generation of the century. We would eventually "come together" to change society and culture as those who came before us had known it, completely revolutionizing music, art, fashion, personal values, technology, and politics in a way that no one (including us) could ever have envisioned. And we would be led through the "Swingin' Sixties" (and beyond) by a suddenly-emerging British quartet that would go down in history as the most popular rock and roll group of all time, The Beatles. The fabulous (absolutely "fab") Beatles.
On Saturday morning, February 8th, I scurried down to the five and dime to buy Meet The Beatles. I had to hear the fresh, innovative pop music of these fascinating Englishmen. Yesterday's news report had come and gone too soon on our black and white TV screen: fleeting images of four "pudding bowl haircuts" and snippets of a cheeky British humor that would soon become oh-so-familiar and all-important to my every waking moment.
I quickly found the album in a bin at TG&Y ("file under: pop and instrumental combos" was printed in tiny type at the top of the LP) and made my way to the cash register, eager to pay the $2.98 to have this precious gem in my possession. Back home, I slipped the record out of its paper bag and held the new-found treasure in my hands. "What a strange cover," I thought, as I gazed at the half-shadowed faces peering at me from the stark group portrait. The finely-tuned artistic sensibility that The Beatles were already clearly expressing was sadly lost on me at that point in time. Turning the album over, I studied the small black and white photo of the band. "What odd looking guys," I mused, examining their gorgeous, long hair and stylish, collarless suits, as I tore the cellophane from the record sleeve. I couldn't wait to place it on the hi-fi turntable and hear for myself what all the excitement was about. And what followed somehow oddly evades my memory: I honestly don't remember listening to The Beatles for the first time. All I know is that I played that LP over and over for the next two days, and when Sunday evening rolled around, I was ready. Ready for the experience of a lifetime: seeing The Beatles' first appearance on The Ed Sullivan Show.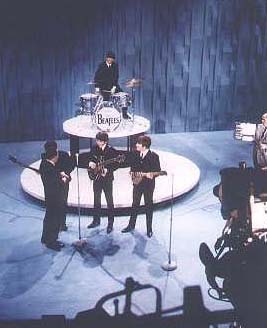 I watched The Beatles perform live for the first time, sitting on my living room floor with my parents ensconced in their usual TV-viewing chairs behind me. During the time it took the lads to play their opening songs, I was transported to another world: a world that held the promise of escape from the overcast skies and dingy reality of the Midwest in winter (as well as spring, summer and fall); a world that beckoned me with renewed dreams of a life that could actually have purpose and meaning; a world where my future would eventually become an exciting adventure into the complete and unfathomable unknown.
I owe all that and so much more to The Beatles. Because of their amazing achievements, I managed to accomplish a few of my own: I traveled extensively around the country as a rock groupie in the late sixties/early seventies; I relocated to Los Angeles and pursued a variety of careers in the entertainment business; I became a freelance journalist (a profession I embraced until my early retirement in the mid-nineties); I published several small magazines and newspapers; I wrote and recorded my own original songs; and I met a lot of very fascinating (and famous) people along the way. I would never have had the most exciting experiences of my life if it hadn't been for the influence of The Beatles. They sacrificed their souls for my generation, and I will love them eternally for having the unbelievable courage it took to do that.
THE THIGHS THAT CHANGED THE WORLD
To understand what actually happened in America on the night of February 9th, 1964, you had to have been there. You had to have experienced that first amazing surge of excitement that instantly catapulted The Beatles into worldwide fame.
Hundreds of thousands of pre-pubescent girls felt the first flutter of sexual excitement that night. Several years later, I would have one of my rock-star lovers say to me with an unalterable deadpan expression: "You've seen too many Beatle movies." And he was absolutely right about that. (I saw A Hard Day's Night on the big screen at least 20 or 30 times during the long, hot summer of 1964, only slacking off when my mother threatened to cut off my allowance if I dared to go see it again.) The Beatles set a special kind of standard that was hard for other contemporary males to live up to. And it happened in a flash on that winter night in 1964.
As young girls with a budding sexuality, we didn't understand what was happening to us. We were too busy looking at The Beatles' hair to notice what was in their trousers. Overall, we embodied a true sexual innocence that is completely nonexistent today. But The Beatles changed all that. Their effect on their female fans during the height of Beatlemania is unparalleled: girls would risk life and limb to touch a Beatle; they would eat the grass they had walked on; pools of urine were mopped up after their concerts. Such was the mania that ensued in regard to anything related to The Beatles in those heady days of 1964.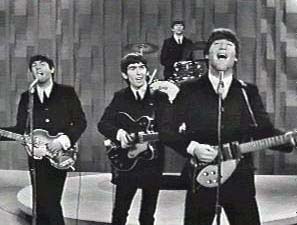 In my naivete, all I knew was that I wanted to replace my Barbies with Remco Beatle dolls and I was compelled to paste magazine photos of my newly-found idols on every inch of wall space in my bedroom. (Kids that I wasn't even that friendly with wanted to come over to see the infamous bedroom that boasted my self-styled Beatles wallpaper.) I lived and breathed The Beatles in my every waking moment and dreamt about them throughout the night. They eclipsed every other possible interest and diversion. And a small group of us true-blue Beatlemaniacs forged a bond at school, creating a new and unique social category: The Beatle Nuts.
We spent our classroom time writing notes to each other about "The Fabs." We spent our lunchtime passing around the latest of dozens of teen magazines with photos of the boys. We spent our sidelined time in gym class talking about every aspect of the group, with one particular question that forever went unanswered: "Why does John stand with his legs apart like that?" It was fascinating, absolutely fascinating. John Lennon had the thighs that changed the world.
WHAT BEATLE JOHN GAVE TO US
I have so many special memories of Beatle John. His startlingly intense charisma and sex appeal, which scared me and most of the other girls into choosing Paul (or George or Ringo) as our favorite. His adorable smile that could turn your own frown into a happy face. The delightful wit and unique quirkiness that he exhibited when least expected. His grace, his charm, and, of course, his exceptional good looks.
And when it came to The Beatles music, you could always count on John to keep things interesting. From the guttural R&B-influenced harmonica on Love Me Do to the throat-ripping vocal on Twist and Shout to the raw emotional phrasing of Not A Second Time, the early Beatles musical output was anchored by the exceptional genius of John Lennon. He reached his zenith on A Hard Day's Night, The Beatles LP most dominated by Lennon-penned tunes. John was on a creative roll, and Beatle fans around the globe were immersed in his voice, his image, his very being. Everybody loved him.
Even my mother, at age 52, delighted in the magic that was Beatle John. She'd catch me coming out of my bedroom after listening to a Beatles album, eager to tell me about her favorite John songs, remarking on his vocal techniques and stylings. And for the likes of her, she couldn't understand what I saw in "that Paul." But how could I explain to her that not only was John married, but he was very, very scary, and Paul was so...safe? It didn't matter, really, because I would sneak furtive looks at photos of John all the time: admiring his smirk-like grin, his amazingly beautiful almond-shaped eyes, the sleek dignity of his long, Roman nose, and the incredible overall sexiness he exuded from every cell of his body. Not to mention his mind. That enchanting and perplexing Lennon style of verbiage that would ultimately make him one of the most enduringly fascinating people of the 20th century (and beyond). No, you didn't tell your mother things like that at the age of twelve or thirteen. These were thoughts and feelings you held close to your heart. These were the kind of things that precious memories were made of. Memories that I would surprisingly come to share with complete strangers through an almost unbelievable global communication technology 37 years later.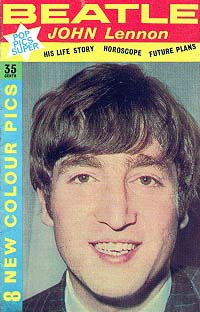 These are some of my memories of Beatle John. Somehow, presented here in black and white, they seem to be far too few, failing to clearly communicate how important John Lennon and The Beatles were, and still are, to me. But how do you write about something that literally encompassed decades of your life, affecting almost every aspect of your experience, while trying to be succinct and somewhat briefly to the point?
You find yourself doing your best to paint a picture of your personal memories, by flitting here, then flitting there, in a stream-of-consciousness kind of way. I wanted to present these thoughts to you, the readers of my little memoir, as an introductory essay of sorts on why and how this site came to be: why I devote hours of my precious time to creating John Lennon content here on Absolute Elsewhere.
John Lennon once said with true exasperation in his voice: "You have to completely humiliate yourself to be what The Beatles were. We gave our youth being The Beatles, while the rest of you were living your lives." John eventually gave his life for being a Beatle. But he left behind an incomparable legacy of music, art, philosophy, and social change. John Lennon was one of the true visionaries of our times.
Almost every day I find reason to thank John Lennon for what he unknowingly gave to me...what he gave so generously to the planet. And I, along with millions of others around the globe, love, admire and respect John Lennon. He will always live in my heart. I wouldn't be who I am today without the profound influence he had on me and my generation. And so, I am compelled to give some of that back. To assure, in my own small way, that John Lennon will never be forgotten. But, of course, that's ridiculous. Almost 40 years since he first captured the world's unwavering attention, it's become crystal clear that his music, his art, and his spirit will continue to live on. And because of that, we will never run out of memories of Beatle John.
Copyright © 2001-2008 ladyjean / AbsoluteElsewhere.net / Jean Teeters
Read Other Memories of Beatle John