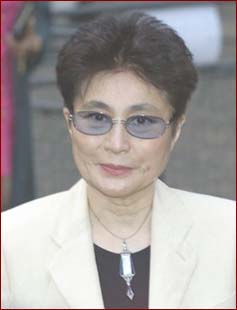 Yoko Ono:
Keeping the Flame Alive


Twenty-two years after John Lennon's
tragic death, the woman he called his
"other half" is working hard to keep the
Lennon legacy alive.

December 8, 2002
For the last 35 years, Yoko Ono has captivated the collective consciousness of the rock scene by simply being the woman who was so truly, madly and deeply loved by John Lennon.
On the 22nd anniversary of Lennon's death, Yoko now enjoys a kind of universal acceptance that clearly eluded her while he was alive.
In 1968, the controversial Beatle introduced the Japanese avant garde artist to the world as his new lover, via a nude photo of the couple on the cover of their first album, Two Virgins. Lennon was shocked and greatly disappointed when Ono was treated with disdain and downright hatred by the press, legions of mistrusting Beatles fans, and within the inner circle of his own trusted band mates.
Ono's spokesman, Elliot Mintz, says, "I met Yoko in 1971. That was just at the tail end of the media brouhaha, the real nasty stuff. I asked her early on in our friendship how she was able to deal with the kind of miserable things that had been written about her during the sixties. She said it was a humbling experience, that made her do a lot of self-examination about what was causing all the frenzy."
People have always asked what John Lennon saw in her. One thing was her art. But clearly the attraction was a very physical one. Lennon was extremely jealous and possessive in their relationship, seeing every man as a potential rival who would try to steal her away. He went so far as to demand that she accompany him to the toilet at Abbey Road Studios so that he could keep his eye on her at all times.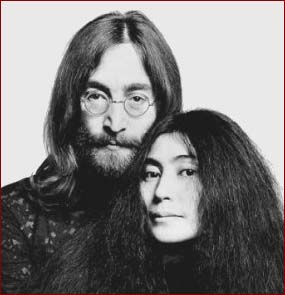 For decades Yoko Ono has been known as "the woman who broke up The Beatles," despite repeated statements from Lennon that it just wasn't true.
"People don't understand our relationship," Lennon said. They said she was a Japanese witch who made me crazy. I was always waiting for a reason to get out of The Beatles from the day I filmed How I Won the War. I just didn't have the guts to do it."
John and Yoko were married in Gibraltar on March 20, 1969. They awed the media with their Bed-Ins For Peace in Amsterdam and Montreal, demonstrated for causes designed to put an end to war and injustice, purged their battered souls through primal screams, and asked the whole of humanity to "imagine." Engulfed in criticism, they carried on throughout the seventies with their art and music, which culminated with what would prove to be John's last album, Double Fantasy, released in November 1980.
But Lennon would only have a slight taste of the acceptance that Yoko would eventually receive. "It was starting to happen before his death," says Mintz. "Double Fantasy featured an equal number of songs by John and Yoko. Reviews were coming in and they had heard from so-called opinion makers about what was being thought of the record. The first indications of public approval were starting to emerge. In the days, weeks and months that followed, things shifted rapidly."
A month later, on December 8th, Lennon was shot and killed outside the Dakota, and the tide of public opinion turned in Yoko Ono's favor. As cries of mourning reverberated around the globe over the loss of the unsurpassed rock genius, Ono was suddenly viewed with compassionate eyes as "Mrs. Lennon" by the majority of those who had been so utterly critical of her in the past.
"Yoko had no intention of being only the widow. She knew she was going to continue with her own work," says Mintz. "She is certainly appreciative when someone has something positive to say about her. But what means the most to her is when people recognize her efforts on behalf of maintaining the dignity and memory of her late husband's name, which consumes so much of her time."
Ono still has her share of critics, but for the most part, she is treated with a reverence that clearly spills over from the almost religious zeal that permeates the memory of the former Beatle.
Lennon once dubbed her "the world's most famous unknown artist." Yoko Ono is now respected, not only as a rock star's widow, but as an artist in her own right, a complete change in attitude that, sadly, John never lived to see. She has taken her show, "Yes Yoko Ono" (a 40-year retrospective of her art), around the world and has received rave reviews at almost every stop.
In September 2002, Yoko was back in court defending the copyright of 374 Lennon family photos that were snapped by former employee, Frederic Seaman. The case wound up as an out of court settlement for the diminutive Ono, and according to journalist Dominick Dunne, nearly everyone in the courtroom seemed overjoyed by the outcome of the trial.
In a recent column for Vanity Fair entitled "Yoko Ono Stole My Heart," Dunne wrote, "I never liked her music and I never liked her art. But Mrs. Lennon, as she preferred to be called, turned out to be not a bit like the image I had of her. She was extremely pleasant, friendly, chatty, dishy even, and funny, on occasion." Yoko was very touched by Dominick's words and sent him a thank you letter.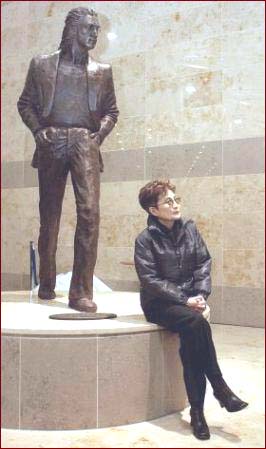 Yoko Ono has done an admirable job in managing the vast Lennon Estate. In the two decades since his death, she has presented a liberal amount of the former Beatle's art and unreleased music to his devoted fans, keeping the memory of John Lennon alive in the form of a multimedia eternal flame.
Ono has defended her marketing of Lennon's art. "I don't think I'm merchandising John aggressively at all. If John's stuff is not out there, people forget about him. It's as simple as that."
Although she's off to Japan for the rest of the year, Ono has no immediate plans to slow down. Traveling the world for Lennon/Ono art shows, performing with cutting edge rock bands, and participating in an almost endless series of dedications in the name of her legendary husband are all a part of her ongoing itinerary.
"Yoko still has great allegiances to causes that she and John believed in when he was alive," explains Mintz. "And she still puts her money where her mouth is when it comes to social injustice."
Ono will turn 70 in February 2003, but she has a youthful countenance that brings to mind a woman perhaps 30 years younger. "Age has not slowed her down," says Mintz. "If anything, it has encouraged her to do more, because she has less time left to do it in."
"Yoko is basically doing what she has done all her life," he continues. "There will be people who will never get it, never understand it, never know what it's all about."
There's no escape for Yoko Ono from her extraordinary past; a past that makes her eternally inseparable from John Lennon. To many, she is fated to walk the earth as an icon, yet forever in his shadow. Perhaps their son, Sean, now 27, sums it up best: "She's a realistic person and she knows John is gone, but his presence is very strong in the apartment and in our lives. It's overwhelming. Everywhere we go, we're looked at in terms of him. He is everything. We haven't said goodbye to him on that level."
Copyright © 2002-2008 ladyjean / AbsoluteElsewhere.net / Jean Teeters
A special thanks goes to Elliot Mintz for his gracious last-minute interview which contributed greatly to this article.
Shop for Yoko Ono CDs and Books at The Lennon Store
Learn More About Yoko Ono at the Instant Karma!, AIU and Bagism Websites